'Translating Music'
is an AHRC-funded international network project led by Lucile Desblache (University of Roehampton, project coordinator), Helen Julia Minors (Kingston University) and Elena Di Giovanni (University of Macerata, Italy) which aims to contribute to new developments in the translation of musical texts.


Exploring the interpersonal, intercultural, intralinguistic and interlinguistic bridges on which music and translation intersect, it examines how words linked to music are currently translated and what is needed to improve the provision of such translation, within, but also beyond lyrics. Initially set to map how translation is provided across a range of genres from film to advertising, it plans to focus more specifically on opera, which has led the way successful translation provision to multilingual, audiences and often appeals to an older public with some level of hearing or visual impairment. As opera companies have been pioneers in this domain, we will ask the question how they can influence best practices in translation provision across genres and media platforms.

This project is structured around a dozen events, in London and in Macerata. Seminars, public performances and a symposium will make it possible to take stock of the current provision of translation in the music industry today, create an interdisciplinary forum for the discussion and exchange of ideas on the latest developments regarding the translation and adaptation of contemporary musical texts, with a view to establishing a long-lasting international network.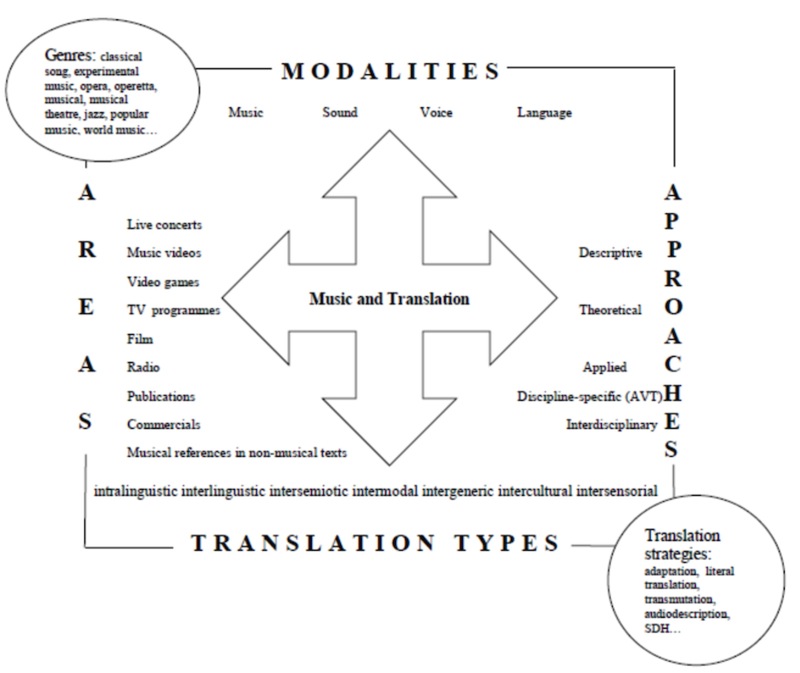 The definitional and conceptual issues relating to the translation of music are challenging. How broad should the concept of translation be? How removed from the notion of semantic meaning and the most common idea of 'translating songs'? To take a couple of examples, can Ravel's orchestrated interpretation of Mussorgsky's Pictures at an exhibition, itself already an attempt to translate visual arts into music, be considered a translation? Can the audio description of a musical be a form of translation?

Scholars, practitioners and members of the public disagree in this matter. In an attempt to be inclusive, Klaus Kaindl and Lucile Desblache have devised the map, which takes into account transfer across areas, modalities and genres. Work in progress, so we welcome feedback!




The Researchers


Lucile Desblache (Project Director) is Director of the Centre for Research in Translation and Transcultural Studies at the University of Roehampton, London. With a dual background in music and translation, her research interests are largely focused on the relationships between text and music. She is the editor of JoSTrans, The Journal of Specialised Translation


Helen Julia Minors is Senior Lecturer in Music and Associate Director of the Practice Research Unit at Kingston University, she is vice-chair of the National Association for Music in Higher Education and the editor of the international peer-reviewed journal, Ars Lyrica, for the Lyrica Society of Word-Music Relations. Her research interests cover the dialogue between music, dance, art, and text in twentieth century European works.


Elena Di Giovanni is Senior Lecturer in English language and Translation at the University of Macerata, Italy. She has published widely on media accessibility and collaborates with companies such as Sub-ti and other providers of translation for the media industry to develop the provision of access in media products.


Debbie Moss (Administrator) is a PhD student at Kingston University. Her research interests centre on the relationship between image, text and music, specifically in the context of the artistic collaboration between Jean Cocteau and Georges Auric in twentieth century Paris.